Zellers Tombstone Repair / Monument Specialists
Started in 1979, been in business since 1998
Alternative to expensive replacement, techniques that are used by Zellers Tombstone Repair were developed by ZTR. Located in Leaf River, Illinois. We pour replacement bases, and caps for new monuments too. Send us your broken decorative urn so we can repair it for you, we also detail GAR markers, Veterans markers of all types.
(**Please go to ZTR page two, to begin designing your new monument)
If your are having us install your new monument please add our mailing address in the shipping fields:
Zellers Tombstone Repair / MS
205 E. Second St.
Leaf River, IL. 61047
Mailing Address:
Owner Operators/ David Zellers and Larry Zellers

205 E. Second St., Leaf River, Illinois, 61047-0144

Phone # David (815) 243-1506
Phone # Larry (815) 738-2536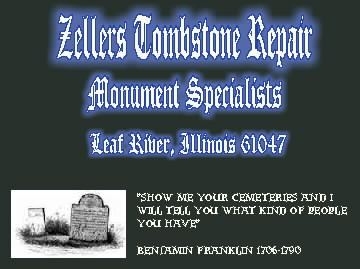 What to use to clean stones:
DO NOT USE CHEMICALS !

If you must clean the stones ! USE:
Soapy hot water--works the best !

We let the natural rain clean the stones !
Shipping Details:
E-mail or call us for shipping information !

We can repair and ship back no matter where you are !
Specializing in old tombstone repair
We specialize in old tombstones, we use two attaching methods together to assure a good repair, then all seams and cracks are filled, and ground flush... Engraving can also be done, our free-hand engravers do a great job creating back into the stone what has been damaged or weathered. To perform this we have to been able to have read it before repair or family must supply the information. Will not assume responsibility for wrong dates given, but will fill and re-engrave at additional engraving fee.