Flag holders & markers
Let us detail your Veterans GAR flag holder
Highly detailed markers and flag holders by Zellers Tombstone Repair / Monument Specialists.
Give it some class and prestige
All markers and flag holders are wheelabrated to bare metal before detailing begins.
We use rustoleum undercoats, high gloss enamel colors, all covered with clearcoat. Makes them look great. And gives many years of enjoyment to family members who are proud of their ancestors who gave service and sacrifice to their country.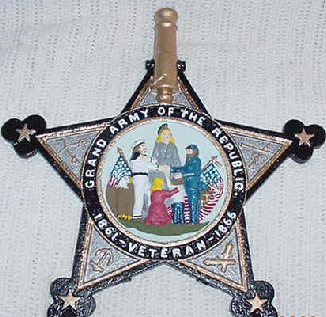 Back of flag holder
We do markers of all types... We are offering different designs, and colors, and will have update of those soon. Basic designs shown in photos.
Send your marker or flag holder for detailing:

To: Zellers Tombstone Repair / Monument Specialist 205 E. Second St., Leaf River, Illinois, 61047

Email: dzellers@lrnet1.com for prices.

Telephone: 815-738-2866 or 815-738-2536